Tomsk State University and TechnoSpark to Launch a Startup Directors Training Program
TOMSK, February 20 — RIA Tomsk. Tomsk State University (TSU) together with the TechnoSpark Group of Companies are going to launch a startup directors training program. Ten TSU students will have the opportunity to manage real startups for nine months and to defend their final qualifying projects based on the results of their work. See the article of RIA Tomsk for details.
Looking for business builders
The launch of the joint training program of TSU and Startup Experience (a TechnoSpark Company) is induced by a serious shortage of technological entrepreneurs in Russia. According to Eduard Galazhinsky, Rector of Tomsk State University, in order to make a breakthrough in the field of technological development, hundreds of startups must be created in each region; dozens of them will grow into successful companies.
"The biggest issue in the economic and educational spheres of Russia is how to learn creating high-tech entrepreneurs in large numbers. We all know the hero creators of high-tech companies, but there are a few of them out of thousands. We want to create a system that will become an alternative to heroes, that will replace heroism with a technological chain," Galazhinsky said during a briefing in RIA Tomsk on Wednesday.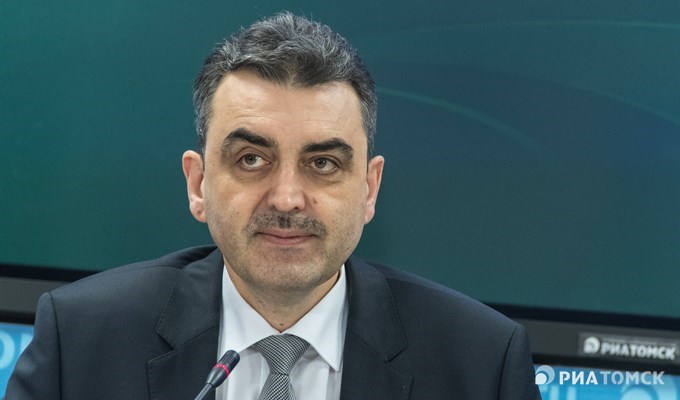 Tomsk State University and TechnoSpark to Launch a Startup Directors Training ProgramThe founders of TechnoSpark came up with the idea of the model of training future entrepreneurs in the technological sphere. According to Denis Kovalevich, CEO of TechnoSpark, the company acts as both a startup studio with a portfolio of 120 business projects and a venture builder.
"We create our own business hypothesis, find a technology, invest in our startup, build a team and develop the startup to the level where it can be sold to an interested company. But in order to do this, we need to find builders for each business project," he explains.
The Startup Experience training track is an attempt to find people with business skills, builders, front-runners of future companies among students of Russian universities. TechnoSpark is willing to provide them with ready-to-use and financially supported startup projects in different industries, from the production of flexible solar panels and sensors for the Internet of Things to genomics.
"We select not the best students, but those who, for various reasons, are fit for this type of activity — technology entrepreneurship. We do not intend to change anybody's career orientation. We would like to find those who want to run a business, but can not do it for some reason," explains Kovalevich.
Candidates for Leadership Positions
TSU will hold two meetings with applicants (800 people are estimated to attend) in order to select the participants of the Startup Experience project. According to the results of the first qualifying stage, 150 students will participate in a 10-hour business game where an artificial intellect will reveal the participants' skills (business acumen, willingness to adapt to the changing situation and to change the decisions made, etc.).
Tomsk State University and TechnoSpark to Launch a Startup Directors Training ProgramTen winners of the game will do a 9-month internship as leaders of one of the TechnoSpark startups in Troitsk (Moscow), Academic Town in Novosibirsk, Kazan, Saransk, Gatchina and Dubna.
"This is a unique opportunity for students who realise that they want to engage themselves in entrepreneurship, rather than in science. They are going to have a ready-to-use "zero" cycle business idea, financial support, a salary and their transportation expenses reimbursed. The students will deal with real matters of the startup for nine months. Afterwards they will have an opportunity to defend their final qualifying projects based on the results of their work," noted Kovalevich. He also specified that 1 million rubles will be invested in each startup project.
According to Eduard Galazhinsky, students of both applied and engineering sciences and human sciences can participate in the project, because the most important thing for the applicants is the willingness to run a business and to take the risks. So there is also a chance for biologists, philologists and journalists.
"An individual training track will be created for each winner. After the internship, the students will have the opportunity to reflect on their business experience and to take it as a basis for the final qualifying project. The research will be directly related to the business internship. The ability to apply university skills to develop a business project is an important part of education," says the Rector of TSU.
The results of the 9-month business development experience and the subsequent  research qualifying works will be evaluated by a special Commission comprised of the TSU professors, TechnoSpark professionals and industry experts.
Photo: Pavel Stefansky
Date: February 20, 2019